Centennial Self Storage Eugene Oregon
Independently and locally owned and operated for over 20 years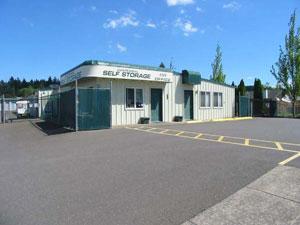 Centennial Self Storage is a well established storage complex offering the best in security, versatility and convenience. We have over 475 individual units in a variety of sizes. We can store anything from important files and records to household goods and furniture.
Security
Security is as important in a storage facility as in your home. A few of Centennial's security benefits are:
Electronic security gate with Key Code.
16 Interior and Exterior Cameras.
Versatility
Large trucks and vans can maneuver easily around the property. Finding a unit to suit your needs isn't a problem at Centennial Self Storage. We have a variety of units to suit your needs including heated units.
Convenience
Centennial is conveniently located near the corner of Rainbow Drive and Centennial Blvd. in Springfield with easy access from I-5, I-105 and Pioneer Parkway. Gate access is available 7 days a week, 365 days a year from 7am to 9pm. Our office hours are 9am to 5pm, Monday through Friday and 10am to 3pm on Saturday. We are closed on Sunday. Payments can be made in advance or on a monthly basis with discounts available.
Storage
Storage units
range from 5' x 5' to 20' x 20'. We also offer heated storage units in 5' x 5' and 5' x 10'. Please call for rates or more information and we will be happy to help you with all of your storage or moving needs.